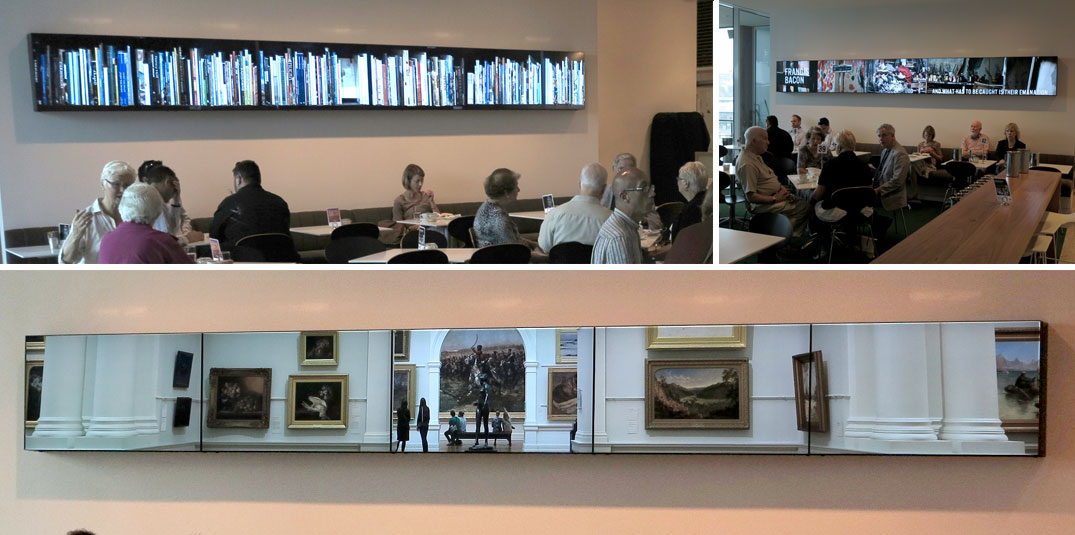 5-SCREEN FEATURE FOR GALLERY CAFÉ
The
Art Gallery of New South Wales
commissioned me to develop and create a digital media feature for their popular café.
A 5-screen horizontal format was selected for installation on one of the two end walls of the café space.
I worked with gallery photographers Jenni Carter and Christopher Snee, directing a shoot of spaces in the building and selecting archival images, then developed the images into a 5-screen wide motion graphics composition using Apple's Motion 5 software. The composition was then cut up for output as five quicktime movies, one for each screen. Gallery AV coordinator John Harman managed the technical installation of the NEC screens and Brightsign HD players.
The gallery wanted a slow-moving, quiet, atmospheric visual element that revealed to visitors the breadth and diversity of collections, exhibitions and spaces in the building.
The final media comprises 16 short sequences spanning 25 minutes, including two 'teasers' for the 2012 summer exhibition Francis Bacon – Five Decades.
These teaser elements will be changed out when new feature exhibitions open.
gary warner 2012
___
Services
creative director
research
media production
technical liaison
Contract Period
Oct-Nov 2012