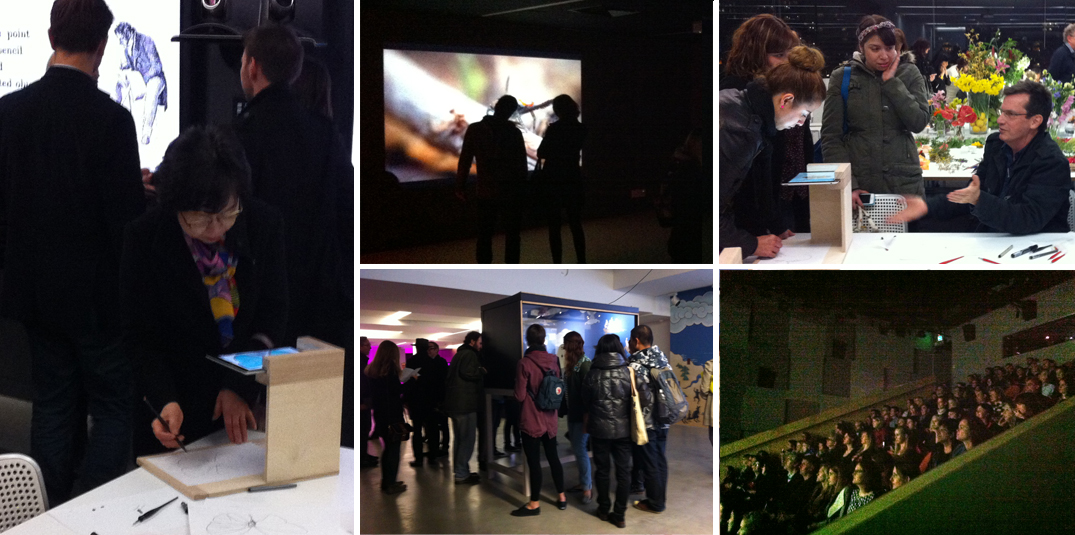 I collaborated with artist Maria Fernanda Cardoso to co-curate the July 2013 Audi Artbar at the Museum of Contemporary Art Australia in Sydney. The evening was a Museum of Copulatory Organs special event, titled 'Sex Everywhere'.
I created a number of key media elements and a large-scale soundscape installation for the evening.
'Sex Calling – Ocean, Land, Sky' was a soundscape comprised entirely of animal vocalisations occupying three levels of the large vertical circulation stairwell. Visitors began on the ocean level with sounds of whales, dolphins, seals and crustaceans, and journeyed up to land featuring bison, large cats, elephants, gibbons and many others, and finally up into the domain of birds and bats.
'Undress a Flower' included scientific illustration artist Geoff Thompson providing guidance to visitors wanting to learn techniques of illustration such as scraperboard and stippling, and the use of an ipad app updating the 18th century technology of the camera lucida. I designed a timber stand to allow people to comfortably use the camera lucida app, and four were built by Phil Sticklen.
'Research and Wonder' was a presentation of the extraordinary work of scientist Jurgen Otto. I edited his exquisite footage of the mating dances of various Maratus spider species into a looping three screen projection installation accompanied by soundscape of field recordings made at my bush property north-west of Sydney.
'MoCO Research Notes' was a 90 minute theatre program of short video sequences exploring scientific research, popular documentary and 'youtube' fascination with aspects of animal reproduction, selected by Maria Fernanda Cardoso.
The evening was attended by over 600 people.