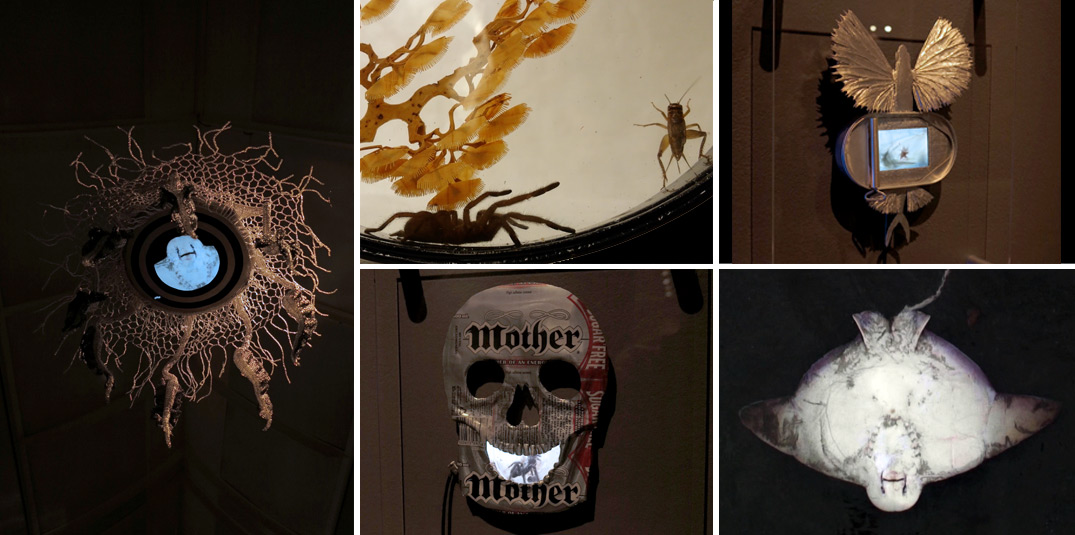 video and sound for fiona hall
Over the past five years I've been assisting artist Fiona Hall with production of media elements for her artworks and installation projects. On her travels around the world, Fiona shoots video sequences of interest to her – museum-bred trapdoor spiders, laboratory fruit-flies, a stingray stranded on an aotearoan beach, nesting seabirds on a remote pacific island, a fluttering naval flag.
We edit the sequences together, and I program them for replay from various devices depending on the context . Fiona then incorporates them into her well-known handmade sculptures and installations, often as quite small images viewed through a cutout aperture. More recently, I've been working on soundscape elements including field recordings of crows at various locations in Australia.
These works have been shown at numerous exhibitions including documenta(13), Kassel 2012, Roslyn Oxley9 Gallery, Sydney, the Australian Museum of Contemporary Art, Sydney, Heide Museum of Modern Art, Melbourne, Wellington City Art Gallery, Aotearoa/New Zealand, and Dark Heart: 2014 Adelaide Biennial of Australian Art.
Fiona has recently been selected as the Australian representative artist for the 2015 Venice Biennale and she's invited me to work with her to produce the video and soundscape elements for that exhibition.
gary warner 2014
___