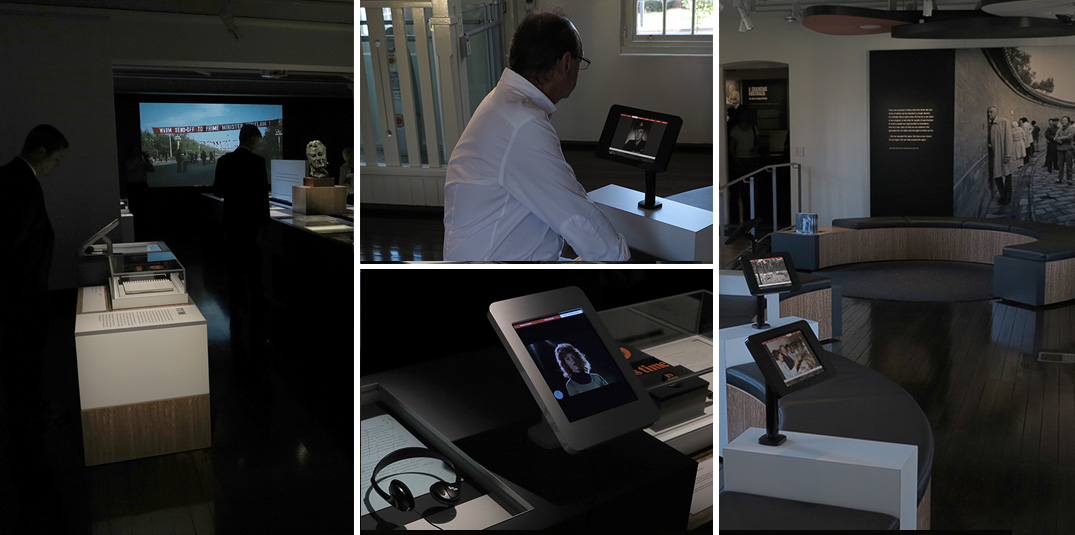 Whitlam Instutute, University of Western Sydney
Exhibition designers Freeman Ryan Design invited me to work with them to develop and deliver multimedia elements for a permanent exhibition about former Australian prime minister Gough Whitlam.
Projection Screen
The main gallery space features a 3.3m wide projection screen for display of a looping 20 minute montage of archival film and photography. The sequence presents documentary footage relating to the themes of the exhibition and helps to create a sense of the important social changes of the Whitlam Government era (1972-75).
iPad Interactives
Working with longtime collaborator Robert St Clair (software developer), I created five different iPad interactives for the exhibition. The iPads are mounted alongside showcase displays of objects and documents, providing visitors a means to expore hundreds of documents including speeches, letters, reports, memos and photographs.
I designed the interface, created the content elements and populated the interactives, and Robert developed the custom html/css/jquery software engine backend.
Speeches Selector
We created an interactive audio project where teachers and gallery staff can use a handheld bluetooth device to select and play various important speeches made by Gough Whitlam.
In 'default' mode, a camera watches for motion in the gallery space, and commences playback of a speech when a visitor enters the room.